VAN 249

Lux Harmonium

Soap and Silk / Peggy Come Home

Format: 7" and CD package

Edition: 300 ***SOLD OUT***
Video for 'Peggy Come Home'
https://vimeo.com/52971880
Release date: July 29th 2013
Following on from VAN239, this is the second 7" from Lux Harmonium to be released on Static Caravan. Whereas the lead track on that single placed Luke Jones's intricate guitar playing in enchanting isolation, these songs are instead largely vocal-led, though not without his beguiling, folk-centric melodies too.
Drawing on a deep well of folklore – English, Devonian and personal – the songs captured here were written and recorded during late nights while Jones was working with esteemed guitar maker Chris Eccleshall. The influence of this folklore also permeates the sleeve art, which was drawn by Jones's partner, harmoniumist and illustrator Hannah Megee, melding Victoriana with the surreal and dream-like similar to how Jones's fevered half-dreams are manifested as gentle folk with a hint of the macabre.
Opening track 'Soap and Silk' carries with it the bitter-sweetness of a thousand vivid memories that just can't be suppressed, and is wrapped in the kind of breezy melody which would get packed tents at summer festivals swaying in unison. On the flip, 'Peggy Come Home', finger-picked guitar underscores a tale of loss and place, with Jones's light vocal especially evocative, while subtle drones in the background introduce electronic flourishes to the otherwise sparse arrangement.
These two folk-pop nuggets are beautiful and timeless, though equally you could be forgiven for thinking they might have emerged on a piece of long-forgotten Island Records-stamped wax from 1970. There's a real sense that this could easily be the soundtrack to a Ken Russell flick; not so much masturbating nuns as rural naked wrestling.
This 7" comes complete with XVI.I, a 10-track CD which includes the rollicking 'Vexated', the Bert Jansch-like melody of 'Cheek By Jowl', and the delicate psych-tinged folk of 'Stars' and 'The Wind, It Breathes' – the latter featuring a harmonics guitar Jones built after immersing himself in the ideas and works of Glenn Branca, and informed by his obsession with resonance. It's proud, bold and mainstream-bothering folk-pop at its finest.
300 edition white in clear 7" vinyl with free album CD.
7" tracklist:
Soap And Silk / Peggy Come Home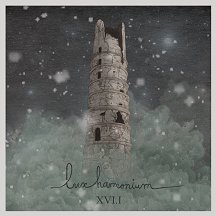 'The Tower' CD tracklist:
1. Shady Lane
2. Vexated
3. Here And Whole
4. Cheek By Jowl
5. The Nocturnal Gardener
6. The Mill Pond
7. Stars
8. The Approaching Of The Great White
9. The Wind, It Breathes
10. St. David's Hill
============================
Reviews
"Am thinking Lux Harmonium covered 'Venus' by Shocking Blue, but it's 'Vexated' or the lengthy psychedelic guitar interludes of 'The Nocturnal Gardener' and 'Stars'. Great refreshing release ...simply great music." [Vital Weekly]
http://www.autresdirections.net/spip.php?article2369
"Static Caravan's back catalogue is increasingly excellent, and these new recordings by Lux Harmonium are a welcome addition. At times sincere, at times slightly sinister, they recall the golden age of British psych-folk without ever losing their modern focus and precision." [Folk Radio]